About the show

Logline: As a part of a new generation of young and advanced sloths, two innovative misfits strive to elevate their species to a modern day slothciety through the use of speed, technology, and the combined individual strengths of their ragtag team. Meanwhile, a pint-sized evil genius plots to undermine them at every turn, utilizing her outrageous inventions to make up for what she lacks in speed.
Synopsis: Deep in the jungle lies a place fondly referred to by the locals as The Canopy. It is teeming with all walks, crawls, and climbs of wildlife. Some are fast, some are semi-fast, and some are sloths.
At the heart of The Canopy stands S.L.O.T.H.Y. Sloths, Inc. (Sloth Leader Organization That Hones Young Sloths, Inc.), an organization dedicated to the betterment of the sloth species by developing the skills of young sloths in the community. Much like technology in our world, speed and productivity are things the older sloths in the community don't understand, but ultimately accept as the modern way of life. Caught up in this new "FAST SLOTH" lifestyle are the athletic BLITZ and the socially awkward inventor RUDY.
Never one to stay inside the lines, Blitz leaves his own S.L.O.T.H.Y. Sloth Athletes League, and along with Rudy (of the Inventors League), the two form their own ragtag League of misfits dedicated to advancing slothkind into the 21st century.
Of course, such an ambitious goal isn't easy, and having a president like Blitz can have its drawbacks, as his act-now-think-later attitude tends to get Rudy and the gang in way over their slothy heads. This forces the anti-social Rudy out of his shell in order to help the team solve whatever problems Blitz lands them in. Between the big-hearted Bru, the bubble-headed Taffy, the quick-witted Luna, and Dawdle, the Canopy's newest resident, Rudy never finds himself short of assistance in subduing Hurricane Blitz.
However, a sinister presence lurks in their midst in the form of RINI, Rudy's seven-year-old prodigy sister, and the pride of the S.L.O.T.H.Y. Sloth Inventors League. Unfortunately for the FAST SLOTHS, she has made it her life's goal to usurp her brother, Rudy, as Blitz's teammate and best friend... not that she's infatuated with Blitz or anything!
Between occasional bullying from the Athletes League, outside challenges with unsuspecting wildlife in the pursuit of knowledge, and the occasional skirmishes with Rudy's bratty sister, Rini, Blitz and Rudy have their work cut out for them, as they try to learn and grow from their strengths and weaknesses, as well as from each other.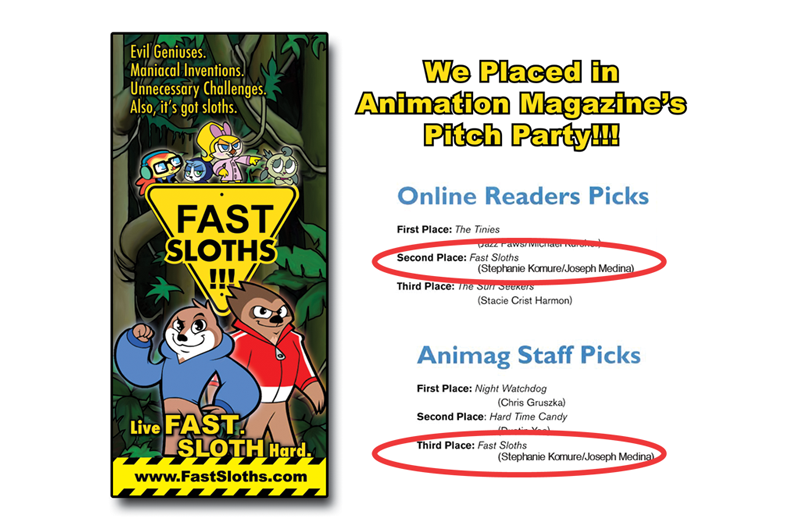 About the creators

Joseph Medina is a writer and podcaster currently living in Burbank, California.
Since his graduation in 2010 from Chapman University's Dodge College of Film and Media Arts with a degree in screenwriting, Joseph has kept busy with side projects. In 2011, he co-wrote the indie film Broken Spirits, which is currently still in post-production. In 2012 he took one of his short scripts, The Models NRT, which won runner up at the Vail Film Festival in 2009, and turned it into a comic soon to be released online.
A long time fan of animation, Joseph has been podcasting about the subject since 2010, hosting The AniManga Podcast and contributing as both a regular guest and host on The Unofficial One Piece Podcast, which garners 10-15,000 listeners per episode and has been instrumental in getting the animated series back on television in the United States.
Joseph is currently in the process of creating a production company that produces online content and is also collaborating with Stephanie Komure on a children's fantasy book series, tentatively titled Summoner Tales.
Stephanie Komure is a voice actress and writer based in Los Angeles. While she is quite happy with where she has arrived, her career has had many twists and turns along the way.
As a child, Stephanie spun out pages and pages of short stories and unfinished works of fiction on her mother's old fashioned typewriter. However, during her college years's at U.C. Davis, Stephanie had a difficult time choosing a major. While her passion lay in her English and Literature classes, her head told her that she must choose a profession that would make her heaps of money. And so it was that she became a corporate graphic designer, and designed other people's words into pretty things.
As a designer, Stephanie primarily worked in creative services in the video game industry, where she designed game packaging and marketing collateral for super awesome companies such as Konami and Sega. But it was her first job out of college that formed the basis for Stephanie's interest in voice acting. While at Working Designs, a small video game publisher, demos from hopeful voice actors would often make their way onto Stephanie's desk. This is what motivated Stephanie to begin her acting training and to embark on an amazing journey through the world of voice over.
As a voice actress, Stephanie has voiced numerous video game and animation characters, as well as radio and television commercials for well-known companies, such as AAA, ABC Television, Goodwill, Activision, and Mattel. Years of awesome VO gigs later, Stephanie has found herself wishing to return to her original passion, writing. And along with her incredibly talented writing partner, Joseph Medina, she is doing just that.
Our other works

Stephanie's portfolio: www.StephanieKomure.com
Download the comic based on Joseph's award-winning script: The Models NRT
Joseph's website: www.JosephMedinaWriter.com
Contact us

Email us at: Info@FastSloths.com